Saturday just gone saw a glorious autumn day for Rutherglen's annual Sweet Cycle, a celebration of the great wine and produce in the Rutherglen region, arranged around the local Rail Trail and quiet back roads as part of High Country Harvest. Almost fifty bon-vivants, hailing from local environs as well as Melbourne and Sydney, gathered at the Rutherglen Wine Experience, many in vintage or tweed before taking to wheel.
First stop was Jone's Winery and Vineyard, a gruelling two kilometres from the start. Revived with morning tea and a delicious white port, riders made their introductions and friendships were underway before everyone repaired to the tasting room for the serious business of the day.
Just as we were getting comfortable it was back on the bikes and a short ride around the back of Rutherglen and on to the Rail Trail. A gentle roll downhill to Wahgunyah and a left-turn at Distillery Road found us at the stunning Pfeiffer Wines.
Riders were greeted with a chilled glass of the 2013 Pfeiffer Gamay under the autumn canopy before strolling down to Sunday Creek. Here a long table was set up for luncheon under a marquee on the bridge straddling the creek banks. The promise of turtle and platypus sightings was soon forgotten as luncheon, by The Pickled Sisters Cafe, was served, together with the 2012 Pfeiffer Shiraz and 2013 Pfeiffer Chardonnay.
Post luncheon strolls were taken exploring the vineyards and enjoying the afternoon sun. Somehow, despite the wonderful refreshments , no one seemed to be feeling very energetic. Reluctantly, we got underway again, buoyed along by the promise of dessert waiting at the top of the hill at The Wicked Virgin.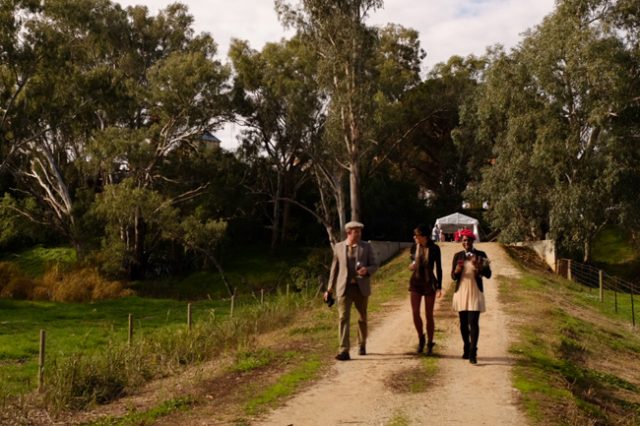 At The Wicked Virgin riders were greeted with an olive oil chocolate cake, served with olive oil and clotted cream, together with a glass of the Welcome Stranger Tokay.
A bonfire roared and rider's enjoyed the last of the sun's rays with new friends and old. Dusk saw riders setting off, although it must be said, not too far, as most seemed to soon find themselves at the The Victoria Hotel in Rutherglen where yet more local fare awaited!
Check out what else is on during High Country Harvest for bike riders.