With the finals fast approaching the pressure is on and everyone is feeling it. The lads from Triple Dutch Rudder didn't get to finish their last game last night as the park got shut down early. They were first game up next day in the blistering Heat, then had a long drawn out wait until they played again in the evening. 
Day two is the decider on who holds a place in the Finals Double elimination and all the Australian teams are a bit stressed. There were a few heated moments between players as they try to iron out any inconsistencies in their game.
As NASFWG made it into the top bracket on the first day they are guaranteed a spot in the Finals. Melbourne Anchor just slipped into the bottom bracket of the finals on their last game at the end of the night. Unfortunately Triple Dutch Rudders and The Wooly Boolies didn't quite get there but they payed a hard games with a few injuries and now can relax and enjoy the comp.
So we have two Australian teams in the double elimination finals which is a first and pretty darn exciting. Polo is still so new in Australia and with two teams in the finals at the Worlds our game is only getting stronger.
 Tomorrow will be huge, the guys all wrecked and nursing bruised ribs, swollen wrists and some nasty grazes. The heat is relentless here and everyone is feeling it. Early nights and fresh start tomorrow!
Today's Team Profile: Triple Dutch Rudder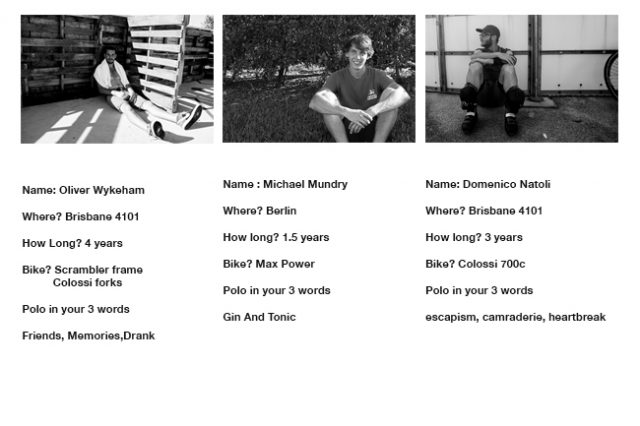 You can watch all the action at the Worlds live on 
bikepolo.tv
 and catch up with scores and competition results 
here
. We'll be posting a wrap up with exclusive photos from Steph each day here at Treadlie online. Steph is in Florida courtesy of 
Le Coq Sportif
All Photos by Stephanie Simcox.