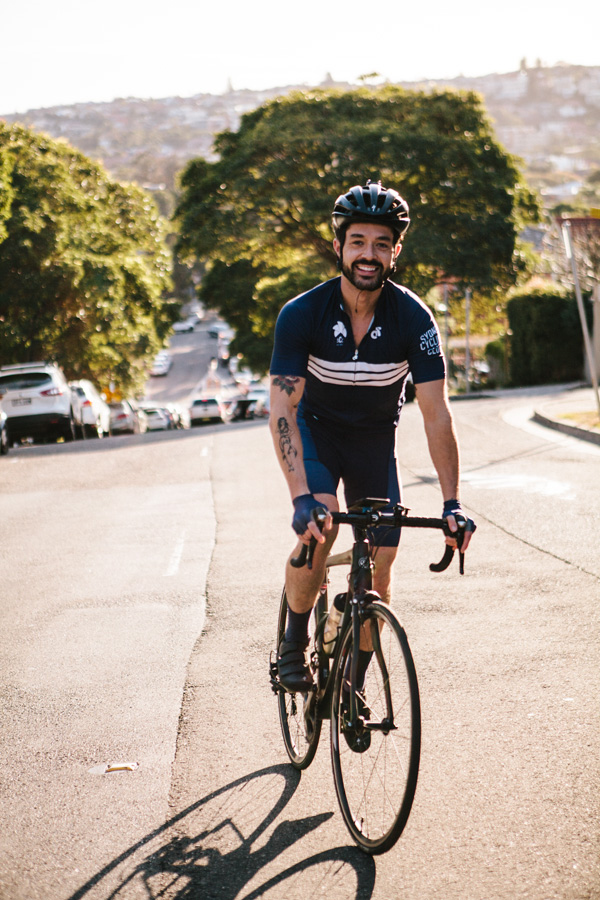 Who? James Knipe
Occupation? UI/UX designer by day and currently working our little butts off with my illustrator girlfriend to set up our ethically-focused design agency here in Bondi @betsyandfrancis.
Wearing? I am wearing the 2018 Sydney Cycling Club jersey. When we first moved to Sydney I saw the SCC guys cycling everywhere and being new to the area, I thought there was no better way to meet other avid cycling folk. So I got myself a cool bike and joined the club. The boots, helmet and water bottles were all picked up from Woolys Wheels in Paddington.
Your bike? The bike itself is a Ribble R872. With incredible specs, this bike is phenomenally good at acceleration. The guys at Ribble offer a seriously stealthy road racer that's light, but can also hold its own in rough situations. This little lightweight, carbon-framed pocket rocket was a lucky find on Facebook marketplace. I picked it from a guy who had recently completed a Century Ironman, so if I was going to purchase a new bike, it would be from this guy.
Going? My adventurous commute sets off from Bondi, straight into some pretty serious hill climbs, warming those morning legs. I begin to make my way through Bondi and into Centennial Park (it's so peaceful in the morning) through the back streets and finishing in Redfern. All in all, it takes 35 minutes each way – it doesn't sound like much, but if you do the maths, it's 23 hours 20 mins a month! I'm pretty proud of that.
Why ride? The freedom. I joined the Sydney Cycling Club last year as a way to meet new people from the area and get out on those longer 100-kilometre rides and to see more of Sydney than I ever would. It's the buzz, the excitement, the nervousness, the exhaustion – all the things that blend together to make the experience.
Favourite ride? We're incredibly lucky to call Sydney our home, this place has some serious beauty. A current favourite of mine is the Watsons Bay route we take with the club. We meet at 6am in Centennial Park and head north to Watsons Bay, down through Bondi, past Tamarama, finishing at Centennial again. This is fairly quick route at 25 kilometres in total, but you get a nice mixture of pine trees, beaches, hills and everything else this beautiful city has to offer.
While riding you…? Always remember to appreciate the little things, whether it's the early sunrises, the birds and their weird noises, horses galloping through Centennial Park, the nature, whizzing down a hill and connecting with others over a soy flat white and banana bread. Cycling ticks so many boxes.
Photo: Dillon Seitchik-Reardon
This article was originally published in issue 23 of Treadlie Magazine.