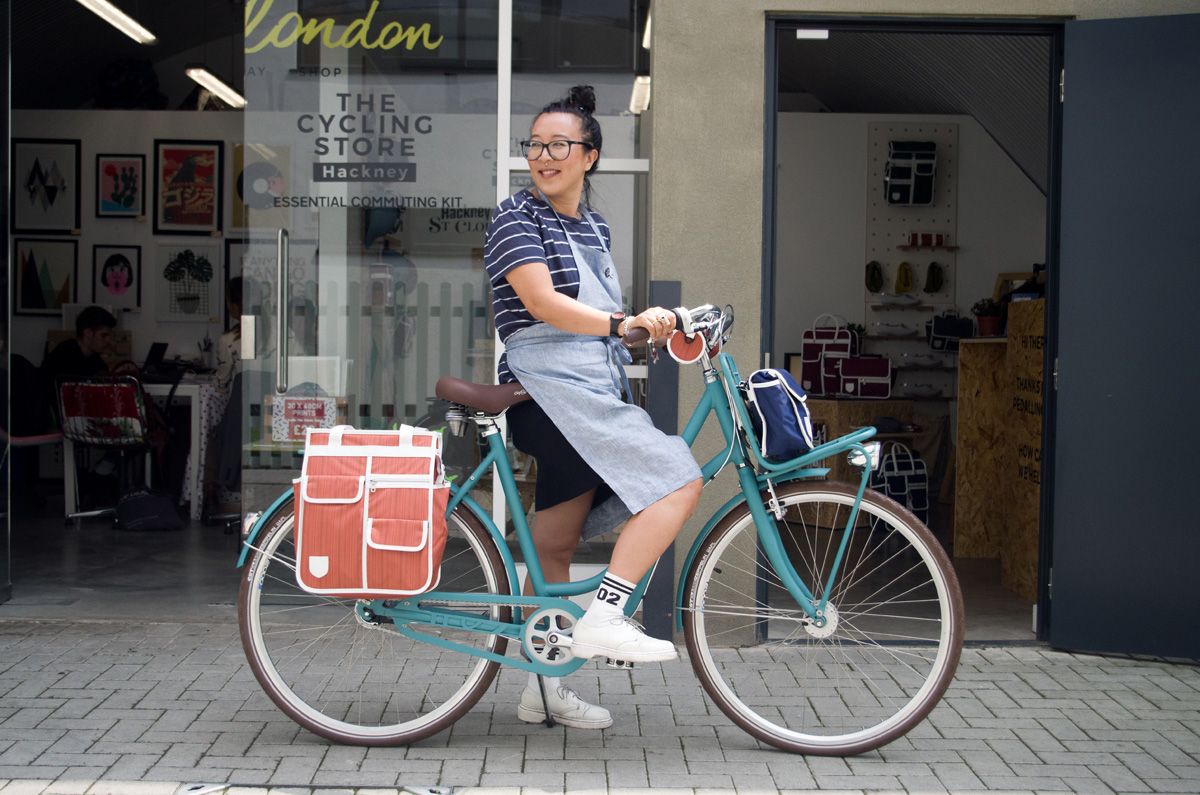 Operating out of a flat on top of a bike shop in Hackney, East London, Goodordering is the colourful cycling brand you've been searching for.
Jacqui Ma found her passion for design on Australian soil. After studying Industrial Design in Canberra, she made the move across the pond to London, where she produced "everything from airline interiors to in-trays for desks". She then made luggage for Debenhams department stores, before changing paths and creating sports bags for Puma. While exploring the breadth of her creative potential, she maintained a constant focus on functionality.
"I find a lot of inspiration in objects that are designed to be utilitarian," elaborates Ma on her ethos. A regular commuter cyclist herself, she began to see a gap in the market for bike bags. "[I] realised that people needed cycling bags that they could also use as a regular bag," Ma explains.
Ma's proclivity for practicality and natural design flair inspired her to launch her own label, Goodordering, in 2012. Her company is now run out of a flat on top of a bike shop in the colourful borough of Hackney, East London. The Goodordering range includes bike and shoulder bags, plus eyewear.
Jacqui Ma brings both her personality and experience to her label. Its name, Goodordering, derives from fond memories of childhood meals. After especially enjoyable dinners out, Ma's family would commend their mum by calling out "good ordering!" to her.
Ma's kids range is also inspired by her personal life. "When my son was about two, I added a mini backpack to the range," she elaborates, "because the brand is so much about nostalgia, what better way to create a brand connection than for a kid to have a Goodordering bag when they are little? …Then, as they grow up, their Goodordering bags will also emotionally connect them to when they were young."
Ma's appreciation for touching sentimentality is at the heart of Goodordering. "Those feelings of being a happy, carefree kid in the 80s were a huge inspiration to me when designing the range. That's why the brand tag line is happy cycling."
Goodordering bags have a bright and distinct aesthetic that channels vintage travel bags from the 70s and 80s. "I love things that have a certain clean preppy look. I love vintage luggage and I'm really inspired by school bags," Ma shares.
Goodordering bags catch the eye with their bold white detailing and bursts of colour. Importantly, the bags are specially designed to enhance the commuter lifestyle.
"For my target group, which is urban commuters, the key things I considered when designing the bags were that my customers love practicality – hence all the pockets and reflective details. They use their bags for multiple activities, that's why our bags are padded and contain laptop sleeves."
Ma is still delighted by public reception of her label. "Even though I first started seeing people cycling around Hackney with my bags around two years ago, I still get so excited when I see someone with a Goodordering bag. It's like they are in my little secret club … I feel an instant connection with them," she says. Ma recalls the time she was stopped on a London street by a fellow cyclist who asked her where her bag was from.
She played coy: "Of course I didn't tell them that I designed them, but I did make sure that they would remember the brand name!"
Jacqui Ma's combination of brilliant design, retro style and personal inspiration means that Goodordering is certainly hard to forget.
Words: Georgia Thomas
This article originally appeared in issue 21 of Treadlie Magazine.